You know, it wasn't all that long ago that
Team Penske
was just a two car team. For the longest time (at least recently),
Helio Castroneves
and *insert
Gil de Ferran
,
Sam Hornish Jr.
, or
Ryan Briscoe
* made up the Team Penske stable with the backing of Marlboro and later just the label of Team Penske after the cigarette sponsorship ban.
Insert one
Will Power
. After a talented rise in American open-wheel racing, Power popped up on the radar of
Roger Penske
. Entering the 2009 Indycar season, uncertainty surrounded lead driver Helio Castroneves, as he was embroiled in tax evasion charges. For the first time in forever, Castroneves would be forced to miss a race (round one in St. Petersburg). Penske tabbed Power to take over the seat in St. Pete and for the foreseeable future.
Power immediately meshed well with the team, and with Castroneves's future in doubt, the team looked at expanding Power's role. Just a mere couple of days before the second race at Long Beach, Castroneves was acquitted on all charges, and retained his ride. Power, who looked like would be kicked to the curb, was put in the new #12 Team Penske car which was backed by Verizon. This is pretty significant, as Power has remained in the #12 car since then (except for his one season in the #1), and it began a long and prosperous relationship between Verizon, Team Penske, and Indycar.
Power and the new sponsor Verizon began a long and successful relationship
starting in Long Beach in 2009 (Photo: Indycar Media)
Power continued to impress in his part-time role, including a win at Edmonton. He would be forced to sit out the rest of the 2009 season after breaking his back in Sonoma. In 2010, he would return full-time alongside Briscoe and Castroneves. This expansion to three cars meant the Penske Powerhouse was growing.
The three car lineup of Briscoe-Castroneves-Power would continue until the 2012 offseason, when Ryan Briscoe was let go. The third car would be run part-time by journeyman
AJ Allmendinger
. With Allmendinger going to NASCAR full-time in 2014, the team was looking for a driver to run in the third car full-time.
After finishing up his career in NASCAR, former Indycar champion
Juan Pablo Montoya
was looking for a ride back in the sport where he started his professional career. While it was rumored he would be going from
Chip Ganassi's
NASCAR program to his Indycar one, Montoya ended up going to Team Penske, making the three-car lineup into a super team. Power would end up winning the championship in 2014.
Now, I thought a three car Team Penske lineup was terrifying enough. Each driver is a threat to win every race. When Roger Penske announced that the team had signed blue-chip free agent
Simon Pagenaud
to drive a fourth full-time Penske car, I died a little on the inside. Four cars driven by four incredible drivers? Pure savagery.
Montoya leads Power and Pagenaud in practice at Indianapolis in 2015 (Photo: Motorsport)
Now, with four cars, Roger Penske has a conundrum. Now in the second season of the Fearsome Foursome, each driver has distinguished himself in one way or another. Insert one
Josef Newgarden
, the next blue-chip free agent to come in this upcoming offseason. Josef is a proven winner and consistently finishes well in every race. I think Josef would absolutely tear it up in a Penske car if he got a couple years to get acquainted with the team.
If you're Roger Penske and Team Penske President
Tim Cindric
, who do you drop to make room for Newgarden? Remember, this is all hypothetical, and there is no evidence that suggests Penske is pursuing Newgarden. But if they are (and they should), who would they get rid of? Here's my breakdown of each driver (stats predate Iowa - 2016):
Will Power
Years with Team Penske: 8
Years in Indycar: 12
Starts: 163
Wins: 27
Podiums: 51
Poles: 44
Age: 35
Status (my opinion):
SAFE
Will Power has become the face of Team Penske, A statistical goliath, Power has quickly climbed the all-time Indycar stat sheets in wins, poles, and podiums. While a championship eluded him first four seasons with Penske, he finally came through and won the title in 2014. That title, along with his continued success and his constant improvement on ovals, means Will Power should be at Penske for many years to come. He'll be there until he decides to retire which could be in many, many years.
Photo: Chris Jasurek / Epoch Times
Simon Pagenaud
Years with Team Penske: 2
Years in Indycar: 7
Starts: 94
Wins: 7
Podiums: 18
Poles: 7
Age: 32
Status (my opinion):
SAFE
After a struggle bus of a first season at Team Penske, Simon Pagenaud quickly turned things around in 2016. Increased chemistry with the newly formed #22 team has led to a lightning start to the season, seeing him become the overwhelming favorite to win the championship. In the prime of his career and the success we are seeing in 2016, I think there is no way Pagenaud is leaving the team anytime soon.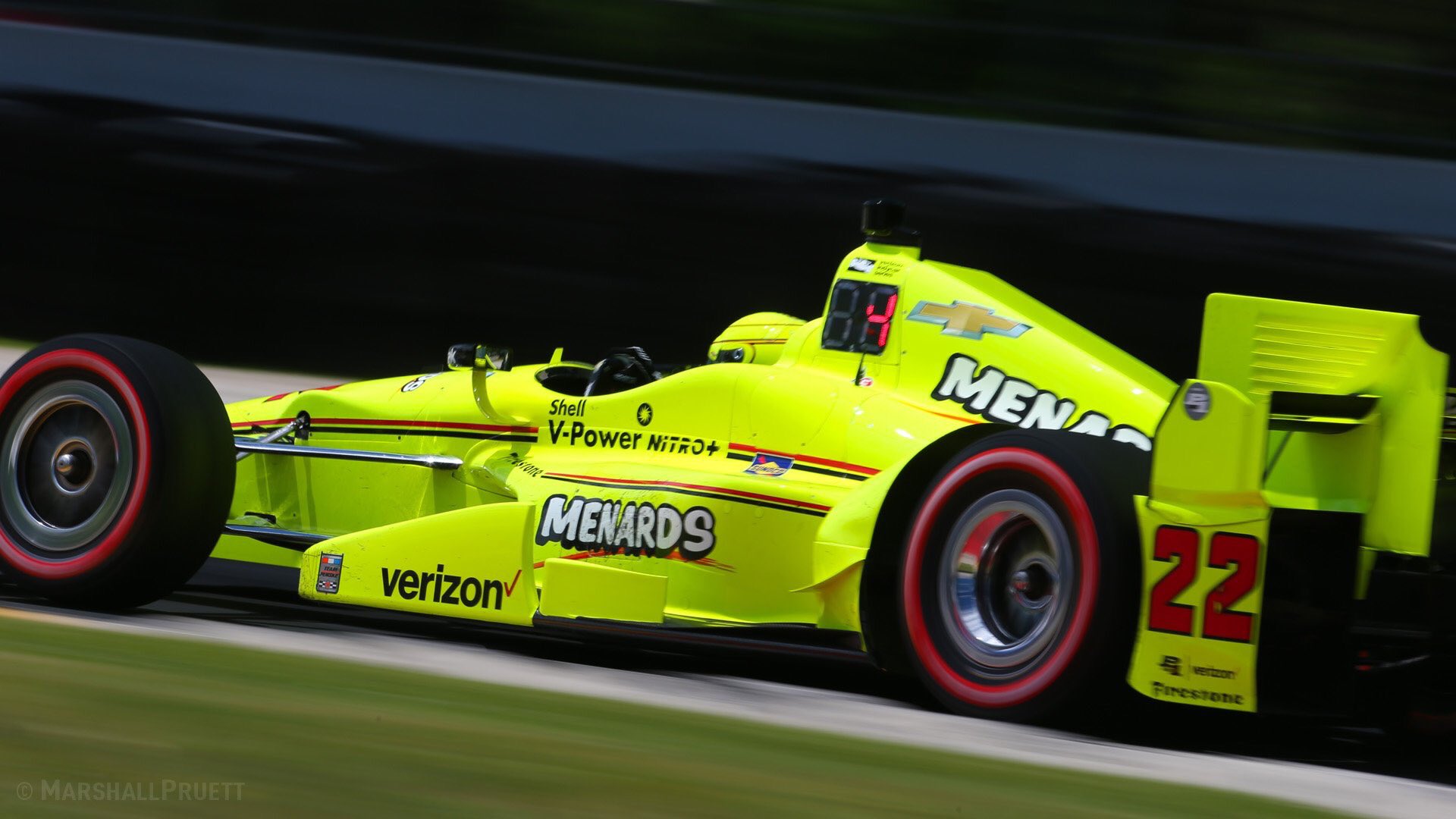 Photo: Marshall Pruett / RACER
Helio Castroneves
Years with Team Penske: 17
Years in Indycar: 19
Starts: 320
Wins: 29
Podiums: 88
Poles: 48
Age: 41
Status (my opinion):
SKETCHY
I personally think Helio Castroneves was sticking around in 2016 to take a crack at winning the 100th Indianapolis 500, which didn't work well. The 41 year old veteran possess all the passion and ambition to be in Indycar, so it would be difficult to see him just deciding to retire. However, Helio has had 16 attempts to win a championship for Roger Penske and has failed 16 times. His current campaign is going well, but one has to ask: will Helio ever win a championship? I would put Power and Pagenaud above him given their recent success, as well as the age difference. I could see Helio staying for many more years, while I could also see him gone in a year or two. Question is: does Roger Penske have the balls to put him out to pasture? My guess is no.
Photo: Joe Skibinski / Indycar Media
Juan Pablo Montoya
Years with Team Penske: 3
Years in Indycar: 5
Starts: 84
Wins: 15
Podiums: 25
Poles: 15
Age: 40
Status (my opinion):
RED ALERT
Infamous journeyman Juan Pablo Montoya enters his third year of his Indycar comeback tour. This was prior to his nine years in NASCAR, six years in Formula 1, and two years in CART. He's a mercenary, going from top ride to top ride in different series' and wanting nothing but wins and championships. In Indycar part two, Montoya has won races, a second Indianapolis 500, and was close to winning a second championship. His first season saw marginal success, but his attitude was terrific. Based on his past, I wasn't expecting a friendly and cheerful Montoya, but that's what we got. He looked genuinely happy to be in Indycar. In 2015, we saw much the same, especially since he won the Indy 500. This year, he looks pretty disinterested in Indycar. The passion seems to be fading, and the results are not going his way. But, Montoya wouldn't be given the label of 'red alert' if he didn't have somewhere to go. Insert
Porsche's LMP1
program in the FIA World Endurance Challenge, the same series that races the 24 Hour of Le Mans. Montoya tested for Porsche in the 2015 Indycar offseason and loved it. He could not race for Porsche in 2016 because of his Indycar conflicts. Now that Porsche just won at Le Mans this year and have established themselves as a championship caliber team, would Montoya want to move again and prove his skills in a new car? It doesn't appear to be out of the question.
Photo: Walter Kuhn / Indycar Media
I would love to see Josef Newgarden either at Team Penske or Chip Ganassi Racing next year. Given that
Scott Dixon
,
Tony Kanaan
, and
Charlie Kimball
appear to not be going anywhere, and the continued misery of the fourth Chip Ganassi car, I don't see Newgarden landing there. If Newgarden can't get a seat at Penske, then he may as well stay at
Ed Carpenter Racing
. Who's seat would be most up for grabs? My opinion is Juan Pablo Montoya.
Thanks for reading! Let me know what you think.
-Matthew Hickey