Yes, I'm still not
Ed Carpenter's
biggest fan, but I will acknowledge his continued strength as an Indycar Team Owner.
Ed Carpenter Racing
has developed into one of the heavy hitters of Indycar. They continue to be a threat to win every week, and Ed's leadership has a lot to do with it.
After driving for several teams since the demise of
Vision Racing
after 2009, Ed landed on his feet in 2012, announcing the formation of Ed Carpenter Racing. He hired and aligned with key figures to help the team grow, include
Tony George
and
Derrick Walker
. After developing a strong relationship with
Fuzzy Zoeller
, Fuzzy's Vodka agreed to become the principal sponsor of the team.
Ed driving for Vision Racing in 2009 (Photo: Robert Laberge / Getty Images North America)
There was just one problem with the team: the driver. No one will deny that Ed is a fiend on the ovals. He manages to make good results come out of nowhere on ovals. In his first year with his new team, he won the season finale at Fontana. But with the Indycar schedule trending towards road and street courses, Ed would never have a chance at winning the championship. He grew up on ovals in the USAC Series and road courses never came naturally to him. While he has definitely made a lot of progress on road courses in his career, it continued to bring him down. That's when Ed made a decision that helped him take a great leap forward as an owner.
It was announced after the 2013 season that Ed would step aside on road and street courses and give the seat to a different driver. The first man tabbed for the job was twisty ace
Mike Conway
. Conway was a perfect fit for the team, collecting two wins in 2014. Ed flourished as well. Not only did he take the Indianapolis 500 pole as a full-time driver in 2013, but in his new role in 2014, Ed proved capable enough to win pole again for the 98th Indianapolis 500. While both of those Indy races didn't end as planned, Ed proved that he was an oval master. He would add his second win with the team at Texas in 2014.
A look at the original ECR Fuzzy's car in 2012 driven by Ed
(Photo: Jeff Gross / Getty Images North America)
Further progression as an owner occurred in the 2014 offseason. With the Indycar trend of forming bigger teams and merging trending upwards, Ed got together with one-car-team
Sarah Fisher
Hartman Racing
, owned by
Sarah Fisher
and
Wink Hartman
, and merged to form
Carpenter Fisher Hartman Racing
. This gave Ed one of the best drivers in the series to align with:
Josef Newgarden.
The relationship was incredibly fruitful in 2015. Josef won two races, new twisty guy
Luca Filippi
was stout on road courses, and things were generally going well. At about this time though, Ed began to digress as a driver. When you only get six races in a season, you want to make the most of them. Ed only finished two of those races, with his best finish being 6th at Iowa. Obviously there's more to it than the numbers say. For example, the CFH cars at Texas were about as good as Donald Trump in a debate. Still, the pressure was on Ed to perform well in 2016.
Another major plot twist occurred for Ed and his team. Sarah Fisher announced that they were withdrawing from Indycar as her partner, Wink Hartman, had to withdraw financial backing due to concerns in the energy markets and how that would impact his business. Without the money, Fisher retreated from the scene. CFH Racing was finished, and it was renamed back to Ed Carpenter Racing. But one big worry was their prized possession: young and blossoming Josef Newgarden. In what can only be described as good timing and fortune for Ed, the team decided to field one full-time car with Josef driving it, and then an oval-only schedule for Ed. Both cars were to be sponsored by Fuzzy's Vodka again. The fact that he got one of the best drivers to drive for him ended up being gold for the team.
Newgarden gets his first crack at the Fuzzy's car in a test in Phoenix
(Photo: Marhsall Pruett / RACER)
While we are still in the midst of the 2016 season, it has been another brutal start for Ed the Driver. Two DNFs, including a crash in Phoenix and a mechanical issue at Indy, makes me wonder if his racing days may be done. He still has all the talent a driver would need to win, but things just haven't gone his way the last two years.
A final showing of Ed the Owner occurred today. Since they signed Josef without any help from Sarah Fisher or other sponsors, the floating #20 car used for road courses was discontinued because of lack of funding. Then, out of nowhere,
Spencer Pigot
, who drove three races for
Rahal Letterman Lanigan Racing
, was announced as the road course driver of the #20 for the rest of the season, as funding was found. Pigot has all the makings to be an absolute stud. He's one of the first drivers to make it to Indycar who embodied the success and effectiveness of the Mazda Road to Indy program.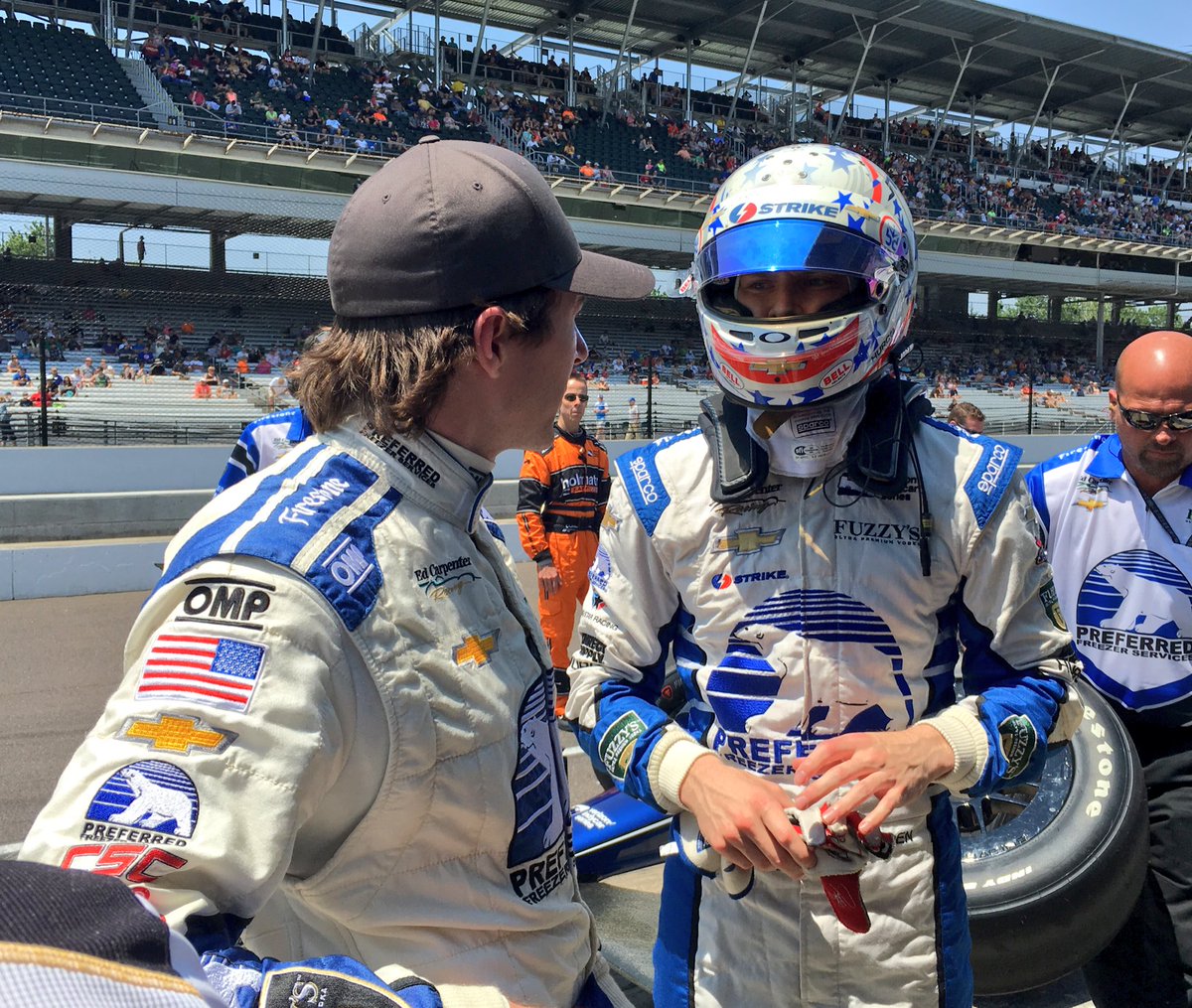 Increased activation by PFS has helped Newgarden (right), Hildebrand (left), and the team
(Photo from @PFS_Logistics on Twitter)
How did Pigot get there? Nothing concrete has been mentioned, but I'm assuming it has a lot to do with the rise in interest from Preferred Freezer Services. The company, which was established not even thirty years ago, specializes in cold storage and refrigerated warehouses. They have quickly turned into one of the largest public refrigerated warehousing companies in the world. Their affiliation with Ed began back in 2014, as free agent
JR Hildebrand
signed an Indy 500 deal with ECR with
Preferred Freezing Services
as his sponsor. In 2015, Hildebrand returned with the team again for both races in May, again with PFS as the sponsor. In 2016, the relationship grew again. Hildebrand raced both races again with PFS, while PFS also jumped onboard with Newgarden for both May races. This continued support must have given the team an extra infusion of cash to help Pigot race the rest of the season. PFS used to be a May-only primary sponsor for the team, but they will be on Newgarden's car for both races in Detroit as well.
Between sponsors grabs, merging, managing to get Newgarden, signing top drivers, and great success in a short time, I have been nothing but impressed with Ed the Owner. While Ed the Driver has faltered the last two years, Ed the Owner is quickly becoming a force to be reckoned with in Indycar.
Let me know what you think!
-Matthew Hickey