No fluffy intro with an irrelevant story on how this season is going to be like a unicorn frolicking through a grass prairie is needed. Here is the team and driver preview for the 2013 Indycar Season:
Team Penske
#2 AJ Allmendinger
#3 Helio Castroneves
#12 Will Power
The team that has not won a championship since 2006 when Sam Hornish Jr. did it is itching to find it's way back in the record books for championships. I mean, who would have thought that after 2006 their next championship would have been in NASCAR... Between this Indycar drought from 2007 till last season, Team Penske has won 36 races in 99 races. Oddly enough, that comes out to winning 36% of the races. Yet no championship. Simply incredible. But I would not be surprised if they win the championship this year. AJ Allmendinger will pilot the #2 car on a part time basis, at races like Barber and Indianapolis. Returning to the team are drivers Will Power, who has driven for Penske since 2009, and Helio Castroneves, who will begin his 13th year with Team Penske. Ryan Briscoe, who piloted the #2 car (formerly #6) since 2008, has been let go by the team.
Photo: AP Photo / Darron Cummings
Chip Ganassi Racing
#9 Scott Dixon
#10 Dario Franchitti
#83 Charlie Kimball
Chip Ganassi Racing did not win the championship in 2012 for the first time since 2007, as Scott Dixon won in 2008 and Dario Franchitti won between the years 2009-2011. Do not worry, as a lot of bad luck hurt them in 2012 with multiple engine failures throughout the season. Dixon returns to the team for his 10th season with the team. Franchitti, who won the 2012 Indianapolis 500 with the team, returns for his fourth year. And Charlie Kimball returns for his third season with the team. Graham Rahal left the team, and the fourth car has been disbanded as a full time car, but it has yet to be ruled out if it will make part time appearances throughout 2013 or what driver would be behind the wheel.
Photo: AP Photo / Darron Cummings
Andretti Autosport
#1 Ryan Hunter-Reay
#5 EJ Viso
#25 Marco Andretti
#27 James Hinchcliffe
#TBA Carlos Munoz (R)
The defending series champions come back to defend their title in 2013, as they return to a four car program after only one year three car program that existed in 2012. Defending champ Ryan Hunter-Reay assumes the car #1 as to signify his championship winning season. This will be Ryan's 4th year with the team. James Hinchcliffe returns to Andretti Autosport for his second season and will once again run the GoDaddy colors. Marco Andretti, who struggled in 2012, returns for his 7th season with the team (wow time flies). EJ Viso, in partnership with HVM Racing and his own team, Team Venezuela, joins Andretti Autosport for his first season with the team. Carlos Munoz will be driving the 5th car at Indianapolis. Munoz has been driving for Andretti Autosport in Firestone Indy Lights.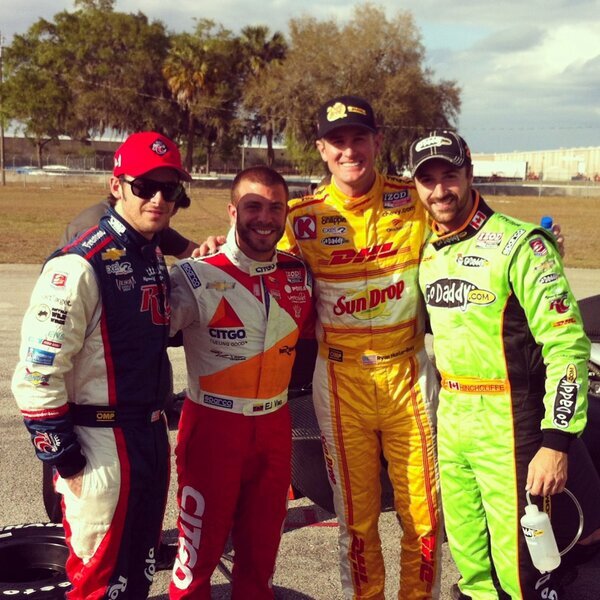 Photo via Andretti Autosport Twitter account
Schmidt Peterson Racing
#55 Tristan Vautier (R)
#77 Simon Pagenaud
Sam Schmidt Motorsports had a fantastic 2012 campaign in both Indycar and Firestone Indy Lights, as Simon Pagenaud had a lot of great runs, finishing 6th in the championship, including rookie of the year, and Tristan Vautier winning the 2012 Firestone Indy Lights Championship for SSM. A new member has joined the team for 2013. Oculus Transport's CEO Ric Peterson comes aboard, rebranding the team name to Schmidt Peterson Motorsports. Also, Davey Hamilton comes back to the team, bringing with him the Hewlet Packard sponsorship. Simon Pagenaud returns for a second full time season. SPM has expanded to a two car program, with Tristan Vautier jumping into the #55 car full time for 2013.
The French Connection (Photo: Indycar Series)
Rahal Letterman Racing
#15 Graham Rahal
#16 James Jakes
#17 Mike Conway
Rahal Letterman Racing was three turns away from winning the 2012 Indianapolis 500. The driver was Takuma Sato. But he has since moved on. Taking his place is Bobby Rahal's (owner) son, Graham Rahal. Graham drove for his father back in 2010 at the Indianapolis 500 and a select few other races, then joined Ganassi Racing for the 2011 and 2012 seasons, but he did not record a win. The team has expanded to a multi-car program, with James Jakes coming in to pilot the #16 full time. Jakes ran with Dale Coyne Racing in 2011 and 2012, with little success or anything to bolster his resume. Mike Conway will pilot a third part time car at Long Beach for now, as I expect he will be in more races on road courses. Since Mike has sworn off ovals for the remainder of his career, I fully expect this car to be occupied by someone else during some of the oval races, especially the Indianapolis 500.
Photo: Joe Jennings of RacingNation.com
Panther / Dreyer and Reinbold Racing
#4 JR Hildebrand
#22 Oriol Servia
The partnership between Panther Racing and Dreyer and Reinbold Racing is alive and well again for the 2013 season. Drivers JR Hildebrand and Oriol Servia, both very well known for their overtaking abilities, look for more success in 2012, as neither driver was able to find the podium. One key area that they need to improve at is qualifying, as they are often burried in the field by time the green flag drops for the first time. This marks JR Hildebrand's third year with the team and Oriol Servia's second.
Photo: IMS
Bryan Herta Autosport
#98 Alex Tagliani
Bryan Herta Autosport returns to the scene once again with the lovable Alex Tagliani. The team, which started with Lotus engines for the first four races in 2012, switched to Chevy, and saw significant improvements in results. Tagliani captured a pole position in Texas, and finished in the top ten in eight of his last ten races. I fully expect this team to get a win or two in 2013. This will be Tagliani's second year.
Photo: Motegi Racing
KV Racing Technology
#11 Tony Kanaan
#78 Simona de Silvestro
KV Racing Technology is looking for a much better season than what they had in 2012, as they did not win a race and only Tony Kanaan finished on the podium. Rubens Barrichello has left Indycar to pursue a career in Brazilian Stock Car racing, and EJ Viso has left for Andretti Autosport. The team has reduced the program to two full time cars, with Simona de Silvestro joining the team. Simona has never had a good opportunity to prove herself. Expect big things from her and the team as a whole in 2013. This will be Simona's first year with the team and TK's third.
Photo from KV Racing's twitter account
Sarah Fisher Hartman Racing
#67 Josef Newgarden
Following their first win in 2011, Sarah Fisher Hartman Racing came into 2012 with high hopes with rookie driver and Indy Lights champion Josef Newgarden. And while Josef had the pace and speed in 2012, the luck was just not there. Multiple mechanical failures and accidents ruined any chance at a good season. I have no doubts that they will bounce back for the 2013 season. Expect a second car at Indy, hopefully with Bryan Clauson behind the wheel.
Photo: Robert Laberge / Getty Images
Dragon Racing
#6 Sebastian Saavedra
#7 Sebastien Bourdais
Well Dragon Racing has done a good job of pissing off just about everyone this offseason. Jay Penske and sponsor TrueCar dumped driver Katherine Legge, who was under contract for 2013, for driver Sebastian Saavedra. Will this yield better results? Who knows. Political bullshit aside, I expect some good races from Dragon Racing, because, after all, they do have Sebastien Bourdais. But I do not expect them to make a serious push for a championship.
Saavedra and Bourdais battling it out in 2011 (Photo: Brian McKay)
AJ Foyt Enterprises
#14 Takuma Sato
AJ Foyt begins a new era of racing. Driver turnover has been prevelant for them lately. They went from Vitor Meria, to Mike Conway, to (now) Takuma Sato, with drivers of the second car including AJ Foyt IV, Jacques Lazier, Bruno Junqueira, and Wade Cunningham. This year, rookie Chase Austin was supposed take the wheel of the #41 car at Indianapolis, but the deal has since been nulled. It would not surprise me if the car was used at other races this year, especially Indianapolis. The team struggled on ovals last year. Lets see if veteran driver Takuma Sato can reverse the fortunes of this team.
Photo: LAT Photographic
Dale Coyne Racing
#18 Justin Wilson
#19 Stefan Wilson
#19 Ana Beatriz
Justin Wilson once again returns to Dale Coyne racing. He ran with the team in 2012, his second stint with the team, as he ran with the team in 2009, winning Dale Coyne his very first team win at Watkins Glen. J Dub also won at Texas last year. The second car had been piloted by James Jakes the last two seasons. He is being replaced by a pair of drivers in Stefan Wilson and Ana Beatriz. Stefan Wilson is Justin's younger brother. Stef has raced in Firestone Indy Lights for the past four seasons, only making one appearance last year for Fan Force United. This will be Stefan's first time racing in Indycar. Ana Beatriz returns to Indycar for a fourth year, as she ran full time with Dreyer and Reinbold in 2010-2011 and part time last year with Andretti Autosport. The two will split the #19 car, with Stefan racing on all the road courses (excluding Sao Paulo), and Ana racing on all the ovals plus Sao Paulo.
Stefan + Justin sharing a moment in 2010 (via Motorsport.com)
Ed Carpenter Racing
#20 Ed Carpenter
Ed Carpenter was without question one of the strongest drivers on ovals in the 2012 season. Unfortunately, his skills or road courses weighed down his season. I also don't forsee this improving for the 2013 season. Nonetheless, the team that Ed started in 2012 is well staffed and looks great on the track. I'd love for them to get a second car in the near future, or even have a driver race the road courses and Ed race the ovals. We'll wait and see what he has in store for 2013.
Photo: LAT Photographic
Let me know what you think and thanks for reading.
-Matthew Hickey